As a difference to many other Italian companies, in the projecting of a furniture component, Salon Ambience has always researched a style characterised by two fundamental elements: duration and neutrality.
The choice of materials of high quality and of a modern and linear design allows the hairdresser's needs to be highly valued, without using lines that are extremely exaggerated, or rigorously attached to the current trend.
The salon is, in fact, the daily workspace of an extremely creative professional: the hairdresser. For this reason, the furniture has to give life to a friendly, appealing atmosphere that allows space for the creativity of the people who work there.
Salon Ambience design creates an ambience of a modern and dynamic lifestyle, that fully displays the personality of the hairdresser, and favours their evolution.
From Concept to Completion
The use of computer-aided-design (CAD) technology in salon planning has allowed customers a previously unheard of insight into how their new salon will look when finished. This small section shows how our experienced salon designers can help guide you through the process from beginning to end, or... From concept to completion.
Phase 1
A two-dimensional design, created at the Salon Ambience Design Centre. This format is used to show the customer the exact layout of their new salon.

Phase 2
After the 2D design comes the 'photo-rendering', a design which incorporates 3D, colours and textures into the design. This is an extremely useful tool for showing somebody exactly how their salon will look when finished.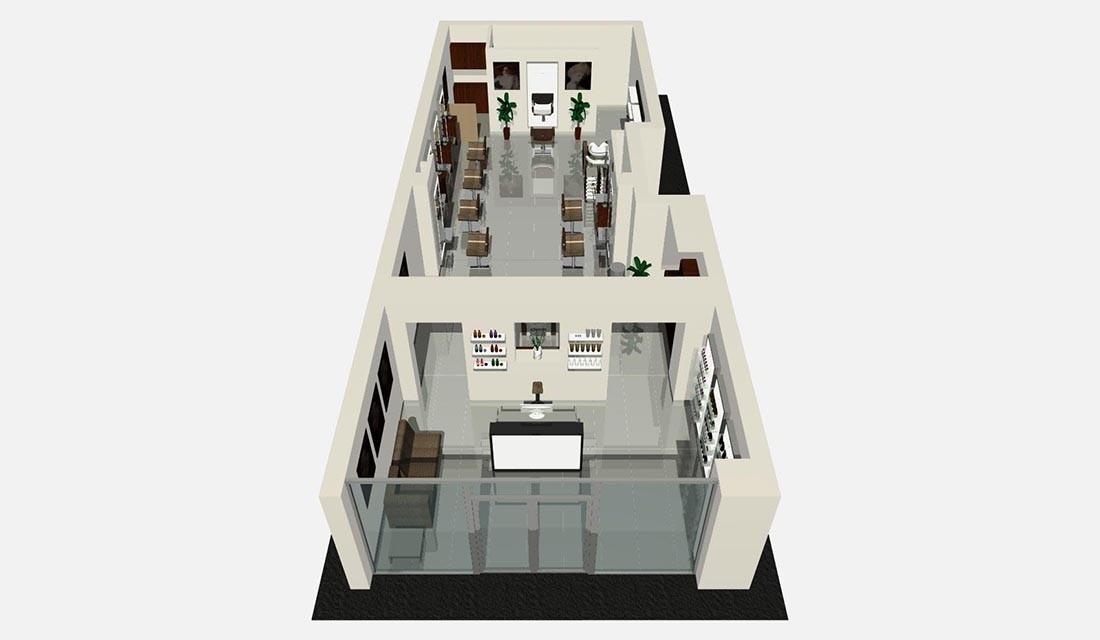 Phase 3
Another design showing the possibilities of the 'photo-rendering' tool, this time from inside the salon. This can allow the possibility to show more specific details of the salon.